Last Updated on October 2, 2023 by Kyle
Best Electric Foot Massager for Plantar Fasciitis
You're on your feet all day long, and they hurt right.  Maybe you have plantar fasciitis, heel, or arch pain.  You know what would be great for that, especially if you have plantar fasciitis, the best electric foot massager for plantar fasciitis.
We hope you love the products we recommend! If you buy something through our links, we may earn an affiliate commission
Now I know you can massage your feet by hand or use a manual foot massager.  However, maybe you don't have the hand strength or you're just tired from a long day's work and don't feel like massaging your feet.
The next best thing is electric or powered foot massager.  We reviewed several foot massagers and we felt the RENPHO Electric Foot Massager Machine with Remote Control was the best electric foot massager for plantar fasciitis as well as a host of other foot ailments.
Plantar Fasciitis
Your foot has a thick, fibrous band of tissue ("fascia") reaching from your heel to your toes. These tissues support the muscles and arch of the foot. When they're overly stretched, tiny tears can occur in their surface.  These tiny tears will cause inflammation and pain.
What is the cause of plantar fasciitis?
Several things can contribute to plantar fasciitis. While men can get plantar fasciitis, it's more common in women. You're also more likely to suffer from this condition as you are older, overweight,  or on your feet for several hours a day.
Your risk of getting plantar fasciitis increases if  you:
Wear worn-out shoes
Have flat feet
Have a very high arch
Wear high-heeled shoes
Have tight Achilles tendons
Benefits of Foot Massage
A foot massage increases the circulation in your feet

Helps with relaxation and pain relief

Reflexology therapy helps correct imbalances in the body by stimulating specific areas of your feet.

Eases tension all over your body, especially your legs and lower back.

Foot massages can also help to treat issues like headaches, insomnia, and stress.

Also gives you a chance to check out your feet to see if you have other foot issues like blisters, bunions, corns, or toenail problems
What Features Should a Good Electric Foot Massager Have?
Multiple massage modes with different intensity levels.
Easy to touch buttons, that can be controlled by your feet or have a remote control
Large massage area, that can accommodate many different foot sizes
Easy to clean
The appearance of the massager should be pleasing as well
Why is the RENPHO Electric Foot Massager the best?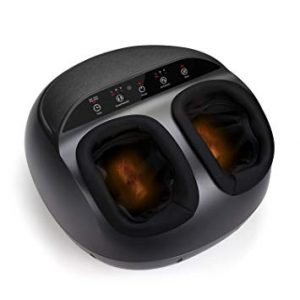 The RENPHO foot massager is ergonomically designed for maximum comfort. It offers a deep-kneading Shiatsu massage, heated, air-pressure massage. It can improve the blood flow, relieve chronic foot pain from plantar fasciitis, and help with neuropathic foot numbness. 
Pros
Users felt the Massager was great at helping relieve swollen and sore feet.
Most users loved the massagers kneading and air pressure intensity.
Users enjoyed the ease of setup and portability of the massager.
Cons
Smaller users felt the foot chamber was a little to roomy
Some users felt that it took too long for the heat feature to warm up.
A few people disliked the amount of noise the massager made while running.
Shiatsu, Reflexology, Heat and Air Pressure
The RENPHO Electric Foot Massager Machine with Remote Control has many great features that you normally wouldn't be able to do yourself if you were attempting a manual massage such as:
Deep kneading Shiatsu massage
The heating function that is specifically good for getting rid of knots in the feet.
Air pressure that increases blood flow to relieve chronic foot pain from plantar fasciitis, and help with numbness of the feet.
The massager uses reflexology to massage acupressure points on your feet which can help improve circulation throughout the entire body.
A Simple and Convenient Foot Massager
The RENPHO Electric Foot Massager Machine with Remote Control is the best electric foot massager for plantar fasciitis because it has a great list of features that are easy to use at home.
Adjustable massage intensity, which gives you a personal massage experience
Adjustable air compression and intensity with an optional heat feature that you can personalize to your own massage tastes.
A timer you can adjust from 5 to 30 minutes, which can automatically shut off after 15 to 30 minutes.
A washable cover to help keep your massager clean and ready for its next use.
Foot massage feels good not only because you'll feel your muscles relax, but also because the massage increases the release of hormones in your body that create relaxation and a sense of calm, and decreases the release of hormones that keep you tense and stressed.
If you are having plantar fasciitis pain, it is important to see a doctor for a checkup.  You deserve to feel better and get back to your day-to-day activities.  With the right care and treatment plan, you will be back on health feet in no time.