Running and Achilles Tendon Soreness
So you love to run, but your Achilles Tendon is bothering you and maybe you have Achilles Tendonitis, you need an Achilles Tendon Brace for Running.   A brace will help support your problematic Achilles Tendon.
We hope you love the products we recommend! If you buy something through our links, we may earn an affiliate commission
We reviewed 3 different braces to see which Achilles tendon brace for running is the best.  We chose the Cho-Pat Achilles Tendon Strap as the best Achilles tendon brace for running.  The Cho-Pat Achilles Tendon Strap was the best all-round performer, by supporting the Achilles as well as helping to lessen any pain.
Achilles Tendonitis
The Achilles tendon is the largest tendon in the human body. It connects your heel bone to your calf muscles and is used when walking, running, and jumping. Achilles tendonitis occurs when the Achilles tendon becomes inflamed or aggravated.
Achilles tendonitis occurs in the middle area of the tendon which is slightly above the heel, and typically affects athletes and younger individuals.
Achilles tendonitis can also occur in anyone, even people who are not active and occurs on the lower portion of the heel. It's common for this tendon to get injured. It can be mild or moderate and feel like a burning pain or stiffness in that part of your leg.
If the pain is severe, your Achilles tendon may be partially torn or completely ruptured.
I tend to fall into the second group these days.  My achilles tendonitis usually hurts in the lower portion my heal and migrates from foot to foot depending on if I have been doing yard work or walking around my office.
What are the qualities of a good Achilles Tendon Brace for Running
A good brace will have many good qualities which are important to a runner with an Achilles injury or is suffering from Achilles tendonitis.  Here are a few that we think are most important:
Adjustability
You need to be able to adjust the brace so that it fits the foot correctly as you engage in your exercise, in this case running.  Being able to adjust brace will allow you to feel secure yet flexible while you are running.
Compression
A good Achilles tendon brace will have good compression.  Compression is key to the recovery process and to help against further injury. Compression will guide the stabilization of the joints.
This will help with the reduction of swelling and bruises. Also allowing good blood circulation to the area which will help in the healing process.
Comfort
Running can be a difficult activity.  If you have a sore Achilles tendon, you will want the brace to be comfortable for those short jogs or longer running sessions.
Achilles Tendon Brace for Running In Depth
Specs:
The brace comes in 3 different sizes and two colors. Made in the USA.
Features:
Firm yet comfortable compression
Adjustable strap for max effectiveness
Stays in place
Helps reduce stress by gently lifting the heel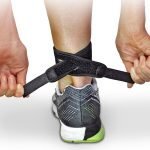 Specs:
The brace comes in 3 different sizes and two colors. Made with a neoprene blend.
Features:
Specs:
Brace comes in 4 sizes and 2 colors.  Made of tight-fitting breathable compression fabric.
Features:
Apply even pressure across the Achilles tendon to provide support and pain relief
Compression to help with joint stability and blood circulation
All day long wearability helps promote healing and recovery
What do People think about the top 3 Achilles Tendon Braces for Running

People like that the brace was designed in America with the Mayo Clinic
Most felt that it helped in recovery and running
Some thought the fit was small so they needed to go up a size
Most felt that it helped with relief from the Achilles tendon pain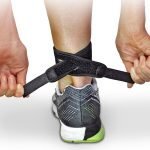 Most felt the brace was good support for Achilles injuries
People felt like it was comfortable to wear will exercising and day to day activities
Some felt the brace could not be adjusted correctly causing looseness while using it.
A few people noted that the brace's durability was not as good as some of the other braces in this category.
People appear to agree that this brace helps with ankle support and compression.
Most like the number of sizes and colors.
Some said the support was only moderate and would be good for lower degree injuries
Some felt that the sizing of the brace was a little small.
Which One Should You Get?
So which brace should you get?  Each of the four braces we reviewed was pretty good at supporting the Achilles.  Helping make you feel more stable in your day-to-day activities.  If you are searching for the Best Achilles Tendon Brace for Running you want a brace that has:
Adjustability
Compression
Comfort
In this case, you couldn't go wrong with any of these picks, but in our opinion, the Best Achilles Tendon Brace for Running was the Cho-Pat Achilles Tendon Strap.  We just felt it met each of the criteria that are important for an Achilles tendon brace to have.  If you are having Achilles tendon pain, it is important to see a doctor for a checkup.  You deserve to feel better and get back to your day-to-day activities.  With the right care and treatment plan, you will be back on healthy feet in no time.
Other resources: